US Government to embed RFID chips into new One Dollar coins
The US Government has a Super Secret plan to embed RFID chips in the new one dollar presidential coin in a test to see if the technology can be adopted for larger denomination coins. If the experiment is successful it could usher in a super easy automated micro payment system that would make cash registers and human to human money exchange obsolete.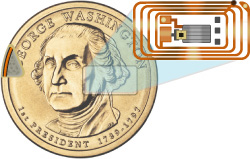 The Treasury is focused on popularizing the notion of large denomination coins to save on the substantial printing cost of 6.5 billion paper dollars a year, which on average last about 18 months in circulation . The Government's last attempt to introduce a $1 dollar coin, the Sacagawea dollar was a disaster with 97% of the public having never used it.
The plan calls for inserting the RFID device in a fixed percentage of coins in order to test the feasibility of large scale deployment. It turns out that coins make for the perfect RFID device, with their conductive alloy composition and their natural resistance to tampering. In fact the range of these passive RFID coins is thought to be 10 feet which means vending machines using this technology would be easier to use and new micro payment industires could develop around fast easymoney transfers. Drive thru windows could be automated and the choice of items in vending machines would be greatly expanded.
http://www.nextenergynews.com/news1/next-energy-news-rfid-coins-1.16b.html
Stanley Works tools up for RFID with Xmark buy
Mass High Tech: The Journal of New England Technology - Mass High Tech
Power tool and construction supply maker The Stanley Works, based in New Britain, Conn., has paid $45 million in cash to acquire Canadian radio frequency identification (RFID) technology maker Xmark Corp., a wholly-owned subsidiary of Florida-based VeriChip Corp.
Xmark, which focuses on RFID products for tracking people and assets, boasts annual revenue of more than $30 million, according to Stanley Works' officials. Under terms of the deal, Xmark will operate as part of Stanley Works' (NYSE:SWK) security segment, which develops physical security systems for buildings, airports and institutions.
Xmark's products focus on three vertical markets: infant security under the Halo brand, wander protection systems for children under the Hugs brand, and hospital and asset tracking systems under the RoamAlert brand.
The deal is expected to help Stanley Works' security business provide a wider array of value-added products and services, according to Stanley Works chairman and CEO John Lundgren.
The acquisition is expected to be completed during the third quarter or early in the fourth quarter following an affirmative vote by a majority of VeriChip's (Nsadaq: CHIP) stockholders. The deal is expected to have little to no impact on Stanley Works' earnings and cash flows in 2008 and is expected to be nominally accretive to earnings and cash flows in 2009, according to the company.
The Stanley Works reported revenue of more than $4.7 billion in 2007 and is home to more than 20,000 employees. The company's security division includes products under the Stanley, Best, National, HSM and FatMax brands.

http://www.bizjournals.com/masshightech/stories/2008/05/12/daily34.html
Arphid Watch: Verichip Death Watch: Implantable Chips Just Don't Make Money
By Bruce Sterling
May 21, 2008 | 8:33:49 AM

Categories: Arphid Watch
(((Hmmm. Looks as though Verichip burned so much cash creating Orwellian chip-implantation scandals that they sorta forgot to establish a revenue stream. Now they sold all their hardware to some Canadians.)))
(((This may have been the intention all along... a little rough on people who bought that CHIP stock, though. And on people who'll be walking around for the next decades with slivers of dead glass injected in 'em. Kinda hope they don't grow tumors, as there may be nobody left to sue.)))
(((If VERICHIP goes, I'm really gonna miss 'em, because in some ways they were the ultimate BEYOND THE BEYOND company... the kinda awesome spectacle that's just so far beyond the plausible that really, you just have to stare.)))
http://www.rfidupdate.com/news/05202008.html
(((And since this news is coming in via relentless arphid industry booster RFID Update, it may be even worse than it looks.)))
Link: RFID Update for Tuesday, May 20th.
Implantable RFID Business 'Not Self-Sustainable'

By John Burnell

Human-implantable RFID microchips face an uncertain future in the wake of developments that the technology's developer, VeriChip, announced last week.

The Delray Beach, Florida-based company announced it sold most of its assets to tool manufacturer Stanley Works for $45 million and that the rest of the company is for sale (see VeriChip Sells an RFID Business, More Change May Come). The remaining company essentially consists of the VeriMed Health Link business line, a patient identification service based on VeriChip's controversial, FDA-approved line of implantable RFID tags for lifetime human identification.

"That business is not self-sustainable," VeriChip vice president of corporate development Jay McKeage candidly told RFID Update. "It cannot stand on its own because of the cash burn involved in marketing to consumers."

VeriMed Health Link is a service in which patients have an RFID tag injected under their skin in the arm to provide lifetime identification. (((Just for the record, lifetime computer chip implantation requires a "lifetime computer chip" infrastructure. There aren't any. They don't exist and maybe can't exist. Be glad you didn't inject a Commodore Amiga, folks.)))

The tag is encoded with a 16-digit unique ID number, which medical professionals with VeriChip-issued readers can use to access the patient's complete medical history from a secure database. (((I'll be guessing Annalee Newitz will be hacking hers. Hey wait, can I inject an Arduino? They're Italian!)))

VeriChip markets the system on patient-safety benefits -- emergency room doctors or other medical staff can access a patient's medical history without relying on a patient response or an ID card. (((Your health bills are paying for that unused, dust-gathering machinery in the emergency rooms... hey wait, I bet somebody made out like a bandit on that deal.))) The idea is that even if a patient arrives unconscious or otherwise uncommunicative, his or her complete medical history is still accessible. (((So basically it's a consumer bet on the consumer being senile or senseless.))) The FDA approved VeriChip's human-implantable passive RFID microchips in 2004, but adoption has been limited.

While much lower-profile than the human chips, the RFID businesses that VeriChip sold to Stanley Works had in fact accounted for the vast majority of the company's revenue. VeriChip's implantable business unit generated a paltry $3,000 in revenue in the quarter that ended March 31, 2008, (((wow! this means that the modest royalties from Katherine Albrecht's heartfelt anti-chip tracts may have *out-earned the competition*))) during which the company saw a $1.9 million loss. Continuation of the VeriMed service likely depends on VeriChip finding a committed buyer. (((I recommend the Red Chinese -- they won't be messing around with any o' that "voluntary consumer" nonsense. And they can probably tag the corpses from environmental disasters just as Verichip so eagerly planned to do!)))

In March, VeriChip announced it secured $8 million in debt financing. The company said the money would be used to repay a loan to its parent company, Digital Angel, and that the rest would finance its new business strategy through 2009. In April the company formally announced its new direct-to-consumer marketing strategy to spur VeriMed Health Link enrollment.

That strategy appears to have been abandoned, based on the fact that proceeds from the $45 million Xmark sale will not be invested into VeriMed Health Link. Instead, VeriChip announced the money will be used to retire debt, and $15 million of the remainder will be paid to shareholders as a special dividend. Another $4.5 million from the sale will be held in escrow for a year. VeriChip is required to purchase at least $875,000 worth of implantable microchips from Digital Angel this year as part of an escalating contract that runs at least through 2011.

"It appears the company had a liquidity issue in the first quarter," financial analyst Kevin Starke of CRT Capital Holdings in Stamford, Connecticut, told RFID Update. Starke specializes in analyzing distressed companies and formerly followed the RFID industry. "The money they borrowed in March appears to have been to fund operations until they could sell Xmark. Now they're left with so few assets it makes me wonder if they would continue as a public company."

VeriChip trades on the NASDAQ exchange under the symbol CHIP.

The market values VeriChip's business at approximately $0.77 per share once the share price is adjusted for the special dividend from the Xmark sale, according to Starke. "Of that, 37 cents is the company's share, so really, the market values the outstanding shares at 40 cents per share," Starke said. VeriChip shares were trading at $2.15 when he made his calculations on Monday. They have since sunk to $1.89.

VeriChip went public less than 16 months ago, opening at $6.50 per share on February 7, 2008 (see Human RFID Tag Provider VeriChip Announces IPO).

In 2007 VeriMed operations generated less than $100,000 in revenue, according to VeriChip's 10-K statement. In the document, VeriMed pins its hopes for a sustainable market on Medicare and Medicaid approving reimbursement for RFID tagging, but the federal insurers currently do not.

VeriChip never attracted the patients or revenues to match the attention it gained after announcing human-injectable RFID technology. The company has been a lightning rod for criticism by RFID opponents and privacy advocates. (((And very deliberately so. There, they showed true genius. There's a real cyber-Americana Barnumesque tract in this. I wish I had time to write it.)))

(((Oh well, colorful ephemera like this is what blogs are for.)))

VeriChip cited privacy concerns and negative media coverage as risks to the business in its 2007 10-K report. It also acknowledged that people may not be willing to be implanted and that physicians may be reluctant to recommend the procedure. The document warned that the VeriMed system may not gain enough acceptance to continue as a business, an analysis that may soon prove true.
(((More, from another source, and no, it's not looking good...))) http://www.rfidjournal.com/article/articleview/4091/1/1/ http://www.rfidjournal.com/article/articleview/4091/1/1/
VeriChip to Place Implantable Division on Block
Once the RFID systems provider completes the recently announced sale of its Xmark subsidiary, it plans to sell the rest of its assets.
By Mary Catherine O'Connor
May 20, 2008—VeriChip Corp., a provider of RFID systems for health-care and asset-tracking applications, has hired investment banking firm Kaufman Bros. to assist in the sale of its VeriMed Health Link business, as well as the possible sale of the entire company.
Jay McKeage, VeriChip's VP of business development, believes Kaufman will "shop the VeriMed business around widely," and that if the VeriMed business sells, another buyer could purchase the remainder of the company, which would then be "a shell of a quoted company." The buyer could then operate as a public company, he says, or "buy it and stop filing with the SEC."
(((They're selling the implantation "business"! Wow! Really makes the imagination skyrocket! Consider the glittering possibilities!)))
(((MAKE magazine buys it and retails homemade implant kits! )))
(((io9 purchases Verichip, making that hideous cyborg logo doll of theirs into a compelling reality!)))
(((The Sarkozy government buys Verichip and cows disorganized leftist French street demonstrators by injecting them with embedded iTunes tracks of Carla Sarkozy hits!)))
(((Verichip thrives after Bollywood choreographer Farah Khan buys the company and uses it to track hordes of her polychromatic backup dancers, as well as her own triplets.)))
(((And then the Federated Media Boing-Boing quintet... no... I can't even go there. It's just too much.)))
http://blog.wired.com/sterling/2008/05/arphid-watch-ve.html